The first few days of our little adventure we have based ourselves in Queenstown. Three nights in a stunning apartment overlooking the lake to celebrate my wife's birthday. We arrive on the day of her birthday and have booked ourselves into a stunning little restaurant for dinner but for now we want to explore.
A drive upto The Remarkables proves to be exactly that, I bet it looks even more serene in the snow. But then it would be cold and we are not so much into the cold. So we're happy to take in the views, fresh air and the sunshine. Having reflected on it for a couple of days I think it would be lovely to come back in the winter and see how different the place is with its blanket of snow. Not to ski you understand, I think I've probably left that pursuits a little to late in life; but Apres Ski I can bond with.
We spend a couple more days doing some walking trails and seeing the sites. Two points I should have learned from. One Mile Track, should not be considered to be a mile. It might be a mile straight up, but I'm not a bird and the track has many twists and turns. Secondly my wife cheats on the Luge. Apparently first off the line at the top is how to win the race. No need to worry that I can make several overtaking attempts, be ten meters behind at the start and literally push her over the line at the end. It's she who wins lastest is bestest. One day I will learn.
After the fun of Queenstown it's off to Milford Sound for my half of the birthday treat. Our birthdays are only a few days apart, so we like to have a little trip around this time of year to celebrate.
This trip has a little more poignancy for me than other, as I am sure you will all have read in my previous blog.  My late mother always wanted to see the Norwegian Fiords but sadly never had the chance, this trip for me has a certain amount of emotion attached to it as I'd always promised to take her but sadly never got the chance. The Sounds would I am certainly now I've seen them for myself made an excellent substitute.
Before we even leave the dock another lady of my life has her opportunity. I'm certain this would have pleased my Mum too, not just because they got on so well but because she would have seen the funny side.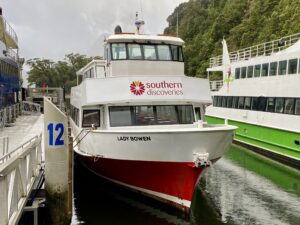 Just out of harbour and the sun peeps through the clouds for a few blissful moments, granting us a magical moment on what was already an amazing day. A day I'd built up in my mind for such a long time and was worried that it might disappoint. I needn't of. If every there was a sign that everything was going to be ok then this was it, I'm not going to lie; I did have a bit of a lump in my throat.
It wasn't long before the rain returned. Just how I wanted it. I spent much of my time on the bow of the ship taking many pictures and getting soaking wet. It was for me a perfect day and I'm sure Mum would have loved it. Maybe she did?
On the return trip we stopped at an under water observatory. A fascinating opportunity to descend beneath the waves to capture a glimpse of some of the sea life down there. As the Sounds have a layer of freshwater sitting on top of the sea water it creates an oddity where deep sea creatures live closer to the surface. Descending this magical spiral staircase is a quite surprising glimpse into another world.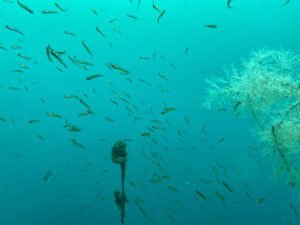 Sorry if this blogs have been a little short. I didn't come away with the idea of blogging and as such these utterances have been painstakingly tapped out on my phone. Maybe I'll add to them when we get home? In the meantime if you'd like to see more pictures please check out my Facebook and Instagram pages.
Instagram #IsolatedSalesman
Facebook @IsolatedSalesman