It's an interesting question; when is Lockdown not a Lockdown?
Clearly our friend in Papatoetoe didn't know the answer, or at least refused to acknowledge it as correct. Not that I want to use this platform to chastise his actions. Like everyone else I don't know his reasoning for not following the guidelines. All I know is the results of his actions have lead to another Level 3 lockdown for Auckland and Level 2 for the rest of New Zealand. It's a blow but nothing our team of 5 million can't overcome.
So, back to the question; when is Lockdown not a Lockdown? Well for us it's simple, early Saturday morning we escaped Auckland for the serene beauty of the South Island. Luck had a big part of our escape, that and my gorgeous wife's birthday. So, while Auckland is waking up to a new dawning of Lockdown restrictions, I'm sat overlooking Lake Wakatipu in Queenstown.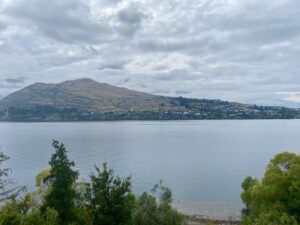 Sure I'm certain the new restrictions will upset our plans a little. But for now we are happy to be out of Auckland and exploring.
Despite living in New Zealand for over three years now and aside an impromptu night in Christchurch as our plane couldn't land in Auckland, we have never been to the South Island. Now we have ten days, maybe even more if we can't get back to Auckland to explore.
Our itinerary is such that we have three days here in Queenstown, then off to Milford Sound for a couple of nights. Up to Wanaka for some tramping (that's what kiwis call outdoor walks for all my International readers) then back for a last look at Queenstown before we fly home, lockdown permitting.
We are both very excited about our trip, both of our birthdays fall over the time we are away and both of us have little treats we have afforded ourselves during this time. The boss wanted a lake front view in Queenstown and a nice meal out, all of which was successfully completed. And now we have a few days to further explore the area before we head to my treat; Milford Sounds.
I've a very personal reason for wanting to visit the area and more importantly Fiordland. My late mother always dreamt of cruising the Norwegian Fiord and I'd promised to take her. Sadly her illness took her before we had the chance but I've always held onto the idea that one day I will make that trip. Norway is a very long way a way right now but I'm sure Mum would have enjoyed this trip just as much. That and it will almost certainly be raining, Milford is one of the wettest places on earth. Recording on average 183 rainfall days per year. Like my mother I love the rain. During storms we would take to the seafront, sensibly attired in shorts and T-shirts to watch the waves brake over the pebbled beach of Budleigh Salterton, arriving home soaked to the bone and always much to the dismay of my father. Every time it rains it reminds me of all the daft things we would do together and I know it will rain as we cruise the sounds on my birthday and my Mum will be with me.